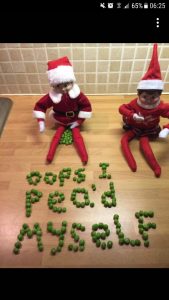 Folks, I caved, I gave in, I acquiesced to my children's demands: on Monday, the 'elf on the shelf' arrived. I had been vehemently opposed to this notion. The girls already had experience of elves at school, where teachers with imagination in abundance, created a fun festive atmosphere with elves up to mischief galore. This was sufficient enough tomfoolery, I felt, and hoped that I, could therefore remain exempt, left in peace to pursue my own Advent activities. I had high hopes of running 5km every day until the 25th, or maybe even ON Christmas Day itself when we have a tradition of doing Wallace parkrun. Last year a friend brought a bottle of prosecco and chocolates. Oh, what comfort and joy.
My aim, this Advent, was to reap the rewards of headspace, shed some pounds and remove myself bodily from the temptation of eating crackers and cheese at 6pm while preparing the evening meal.
Eight days in, I have managed two runs, one of which involved jogging to a local watering-hole; drinking a glass of Sauvignon Blanc (albeit a small one) then jogging home again. I mean, does that even count as a run? I do hope so: much of it was uphill and thus decidedly unpleasant.
It's now the 8thDecember and my stomach remains portly and my nerves remain fraught.
Well of course they are. Who has time to go jogging when they have a house to decorate, nativities to attend, an actual JOB, and now this bastard elf as an extra obligation? Who needs to pay to go to a pantomime, I ask you? Our lives are pantomime enough.
I tried to dissuade my children from having an elf by describing the evil antics some of them got up to. I heard of one, I told them darkly, who peed into a basin, then left it in the laundry room, where he proceeded to unclip all the socks and pants off the whirl-i-gig drier so they all plopped down into the piddle. 'Imagine, your lovely socks covered in elf WEE,' I said.
'Our socks aren't lovely,' said the Small Child. 'They are all odd and some have holes in.'
'That must have been a Black Elf' said the Older one gravely. 'I've heard they're really bad. Green ones are nice. Red too.'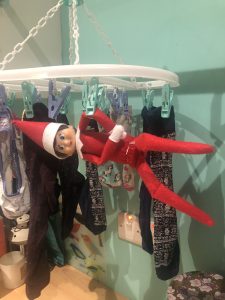 'Hmmm…' I said.
LSB beckoned me over. 'See that parcel that arrived yesterday?' he whispered. 'I ordered them an elf!' He looked ever so pleased with himself, ebullient, even, full of Christmas cheer.
'For f**k's sake,' I said. Although it was he who instigated the elf's arrival, it was I who removed it from the twenty tons of packaging (thank you Amazon) and arranged it so it was ensconced in the sweetie tin with a Freddo tucked snugly under each arm to greet the children on Monday morning. Jeepers, the excitement when they blundered,  bleary-eyed into us, to announce its arrival. 'I thought it was a dream!' said the Small Child, her face aglow. 'But it's here! And its HOLDING FREDDOS!!!!'
Turns out there are some benefits to being a curmudgeonly sort of mother. If you actually do something agreeable, your children can hardly believe it.  Every morning, they have been dancing down the stairs and going 'on the hunt.' They were thrilled to find it tangled in some wool suspended from lights in the kitchen, its hat caught in the yarn. I didn't even have to do that; gravity took care of it. The elf has been having a grand old time to itself: sitting atop our Christmas llama decoration; stealing their dad's beer from the fridge, and their favourite so far- climbing inside a toy 'tree puppet' and writing 'HO HO HO' with Lego and hair bobbles. (I was quite proud of that one, I must admit.)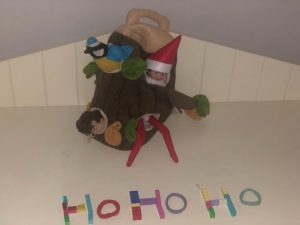 And here I must share a startling revelation. I have LOVED this. Life, as I'm sure you can appreciate can be so very serious and GLUM. Oh, the all-pervading glumness of it at times. I mean, who in the name of God would ever of thought Princess Anne could bring a moment of levity to world politics? We must be in a very dark place indeed. And BoJo and Corbyn- send in the clowns indeed. So introducing this gentle silliness, this whimsy, is most welcome. Last spring I went to see the Australian cartoonist Leunig chatting with Pádraig O'Tuoma in The Black Box, and he was very keen on embracing the whimsical aspect of life. Being curious, being open, daring to wonder when everything seems to have gone to shit. Sometimes life needs brightened by the lightest of touches, and a sense of magic and nonsense. Very soon my little pair will be too old to give a flying f**k what an elf is up to, so for the moment, it's here and giving us a bit of its craic. I'm beginning to suspect it may even be more for me than them.