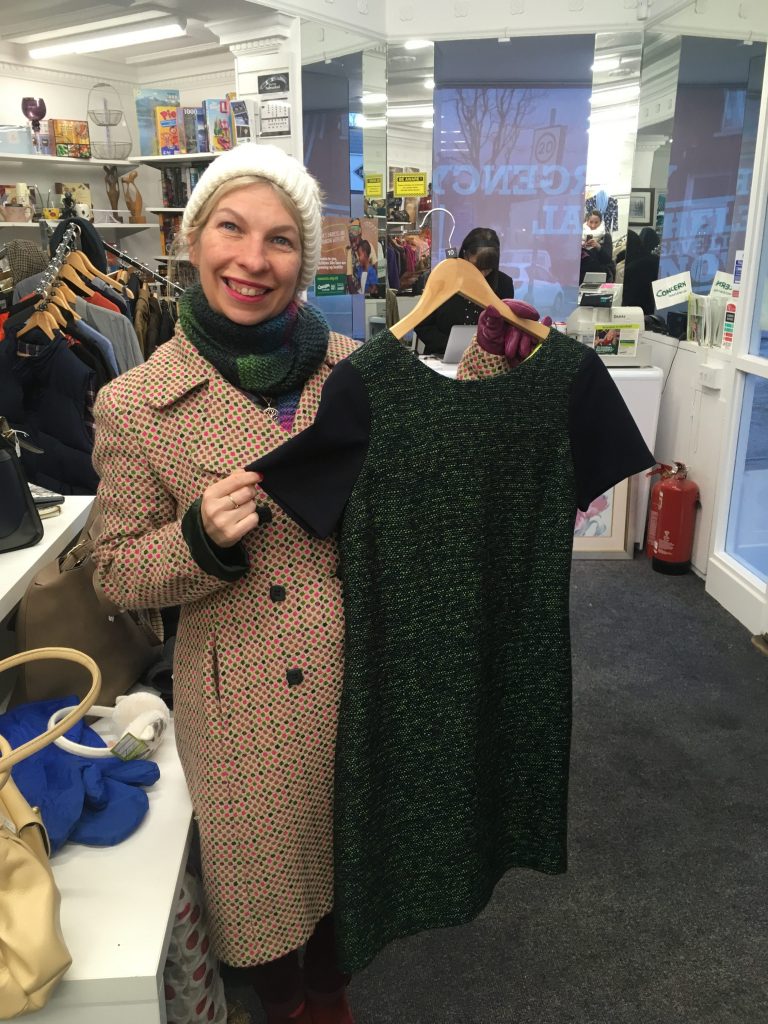 It's the third week in January, when statistics indicate we will have abandoned our New Year's Resolutions, be dreading the credit card bill and be cursing the grey skies and present cold snap. Mind you, I'm relieved to feel the chill because, no word of a lie, three weeks ago I saw what looked suspiciously like blackberries ripening in the brambles outside Forestside.  Global warming isn't just imminent: it's here, upon us and scaring the s**t clean out of me.
Thus do we remain apathetic, or make some tweaks to our consumerist habits and do the world a favour? We do the latter people! No point sitting around getting depressed, no Sirree. On Friday morning I took a trot down the Ormeau and partook of a fine coffee with a friend in Root and Branch. It's a jolly place isn't it, if you don't mind channelling your inner hipster and thinking 'less is more' with your thimble sized cup. I'm helping my pal run a pub quiz for Tour Guide NI, a fledgling business, organising local events for tourists. I've never been a quiz master before but I've been to enough to know what makes a really bad one. We've all sat through some abysmal quiz with an entire round devoted to soap operas (BOKE) and another one based upon obscure geographical facts that no one has any notion about and a collective gloom descends. The WORST is when the compere feels they've missed out their role in life as a comedian, and attempts humour instead of getting on with the rounds. Excruciating.
Now, if there's one benefit to the new Netflix show: 'Marie Kondo Tidies' it's that there's fabulous buys to be found in charity shops, since the masses are leaping upon the band wagon and f**king out anything which doesn't 'spark joy'. The phenomenon has reached the Ormeau, if 'The Hospice Shop' and 'Concern' are anything to go by. I was tempted by Chanel inspired classics, 50's inspired glamour and boho chic kimono pieces. I settled on a frock which looked every bit Desigual but from a company I'd never heard tell of. The lovely lady in The Hospice Shop told me that they find it hard to shift dresses and skirts. I just don't understand- the stuff is gorgeous. And do you know who needs bright pretty ensembles? Teachers, that's who. Kids love a bit of glam- who wants to sit looking at someone clad in beige or black, especially wee primary school kids who look at the same person all day. We had a geography teacher in school who was the personification of bland: her clothes were wishy washy and she was zero craic to boot. The Mothership, who used to sub-teach (ever since ditching her job to go gallivanting round Africa) and always chose her work clothes with tremendous care. I remember her looking out quirky pieces of jewellery and selecting lovely outfits since her lecturer at Stranmillis had said, 'children like that sort of thing.' She had a ring which looked like an eye that the wee boys in particular loved staring at it.
I recall too, that once you've worn a jacket into work and lugged around a few dirty old books, and had wee kids coughing and sneezing all over you; that your clothes get past their best very quickly. One therefore resents shelling out a fortune, and who wants to support fast fashion with all those dyes and micro-plastics flooding the rivers in Bangladesh. 
So to cheer up a mizzly morning, take yourself down the Ormeau. Craic was ninety in the shops and you can sate your inner shopaholic guilt free. Check out my new ensemble (minus the shoes which I wouldn't last 10 minutes in. I'm clumsy enough without heels, even if they are beaut.) Another top tip, if you happening to be organising a PTA event or pub quiz and are looking prizes, is to have a gander at all the loot IN the charity shops, and pick them up at a bargain price. You could make up all sorts of goody bags and create some much sought after and original raffle prizes. Plus, you'd have a fun morning outing. You see? January isn't so bad after all…