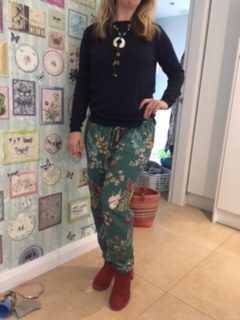 Just throwing this out there, Trump may be in South East Asia trying to appease relations so World War Three doesn't erupt, but here on the Ormeau there are different negotiations afoot.
The question here is, is this outfit an affront to the eyes? I'm just after saying to LSB "What do you think of this ensemble" and he said "You look great! It's mental like, but looking good!"  (I think he's just relieved that I've started wearing make-up again because I was poorly there for a week or two and was running round like a right troglodyte.)
SWB- Elaborate please. How's it mental?
LSB- Well, you have green trousers and red shoes.
SWB- Pink and red shoes. And there is pink in the trousers
LSB- I think it's just the green trousers. They are very green.
SWB- Are you saying I look like a leprechaun?
LSB- A bit, but a cute leprechaun, one I'd take for a drink if she was single.
He's a charmer alright, that LSB one.
But this interchange raises an important issue. There are not enough coloured trousers in Norn Iron. Now imagine you were on the continent: there you would have to don your shades, so bedazzled would you be with the salmon pink and violet and turquoise hues, and that's only the men.
Back to Belfast and I'm sitting here in Kaffe-O surveying the clientele. Waiting on his takeaway flat white is a fellow so bewhiskered that a peregrine falcon could be hiding in his beard and he wouldn't notice. Digging into boiled eggs at the bar is a chap with scarlet socks and a floral short but it's hidden under a sludgy green jumper.  There's not a pair of bright slacks in sight, apart from mine obviously.
But oh, stop the press: a chap has just emerged from a booth wearing a fabulous orange duffle coat. It is flamboyance made manifest and  screams "Bring on Bonfire night for I am full of autumnal cheer!!" But still, it's a coat, not trousers and that is the theme for today. From my observations, people are happy to take risks with facial hair and outer wear, but alas with not denims.
However, on Saturday night we threw a dinner party for friends, one of whom arrived sporting the most wonderful mustard cords. What joy they brought to the occasion.
SWB readers, should be start a trend and inject some colour and luminosity into our wardrobes as the evenings darken and with that, almost by default our moods?
And to return to my original question, what's the verdict on my outfit?