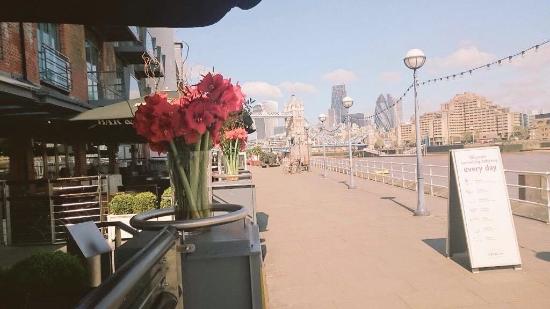 I couldn't get to sleep last night. Maybe it was my persistent cough; (damn those fags*) or the ill-advised two cups of coffee that day, or maybe it was just the horror sinking in of the most recent terrorist attacks. I have two close friends who live within spitting distance of London Bridge. Before we all had kids I was never off their doorsteps, flying over for half-term and Easter for my London fix. We'd spend our mornings in Spitalfields where I'd snap up a whole rake of cheery tunic dresses for work, then hit Brick Lane for a curry. We'd feast on sushi in South Kensington's Kulu Kulu before basking in the gardens of the V&A. And we'd spend a lot of time just lounging in my friend's house on Butler's Wharf, watching the swell of the Thames and the hustle and bustle below as we drank Rioja on her rooftop.
I mourn those days. I used to book a flight without a thought; dip my toe into that sunny cosmopolitan world, before nipping back home to teach on the Falls. I miss that carefree time without kids, but I always longed to take the girls there when they were big enough to enjoy it with me. I hate that I now feel scared of some madman with a knife on the rampage, or behind the wheel of a van destined to kill.
These ruminations weren't conducive to sleep, so I tossed and turned beside a snoring LSB before taking myself to the spare room where I could be as fitful as I liked. So amid all these bleak thoughts, I came over all Theresa May and said: "Enough is enough". (That's as close as May and I will ever come to agreeing on anything). I did took some deep yogic breaths: in for eight out for eight, in for eight out for eight, and I felt my heart rate start to slow. Then I thought of some nice things. What buns would I make for my friends' next pop up café, Harper's Yard? Rocky Roads, I concluded. Could I lay hands on some of the sustainable cups I'd bought ages ago and tidied away somewhere? While down this road I thought about some savoury canapés that are served on edible pastry spoons. (These are very big in France and are served as 'Amuse bouches' for hors d'oeuvres. Feck, something needs to be amused these days, and it may as well be your mouth.)
Now, I can see some of you rolling your eyes and thinking: "God Almighty, the threat of another terror attack is imminent and she's actually on about canapés and baked goods?" But let me justify my musings. The edible spoons mean you need neither napkin nor plate, so your bellies feel full but the landfill doesn't. And who doesn't like a Rocky Road of a Saturday morning?
As these frothy and frivolous thoughts began to swirl, the anxiety began to leech away. It didn't go, but it retreated for a while. And finally, I slept.
*I don't actually smoke, haven't in years. But if I thought the world was ending tomorrow I'd be back on those bad boys in a jiffy. I loved a menthol with an expresso. Or with a G&T. Or just sitting on my own, in the park with a book. Loved them full stop. Addictive little feckers.