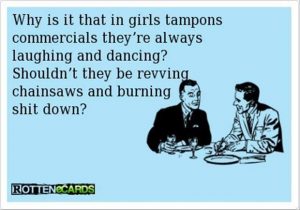 WARNING: May put you off your dinner. Especially if bolognese.
Periods. Since popping out my off-spring, my periods have become sorer, heavier and more sheet defying. Perhaps you're familiar with those wooden devices that you thrust into half a lemon and twist firmly to extract the juice? That's how my lower abdomen feels on the second day. And sometimes, as a treat, it goes up my back passage too.
It's the surprise element that gets me. Usually it's on a 23 day cycle, except when it isn't. One month it could be light and relatively pain free, another and it will saturate a tampon and a pad in an hour. That's one way to endear yourself to Easyjet flight attendants, when your reserves are locked in the hold and you have to deplete their own personal tampon supply.
Holiday times are when my periods are at their most objectionable. On a trip to Malaga last year it was late. Very late. After two negative pregnancy tests I still couldn't relax and enjoy my Rioja, lest I damage the budding embryo within. It finally arrived on the last day of the holiday. "Isn't Mother Nature a malevolent old witch?" I opined.
It made a very visible appearance when we stayed with new friends in Barcelona. After being deceptively light it came a-gushing one morning; LSB had to coral the kids out while I assessed the damage. Like the f**king Texas Chain Saw Massacre, that's what. Upon seeing an armful of bed linen, our gracious hostess assumed it was a 'niña' who had wet the bed. "No pasa nada!" she smiled, while I shook my head, trying to convey the necessity for Ariel Non Bio in my rubbish Spanish, and set to scrubbing the scarlet stain. I bet she can't wait for me to come back next year.
So what brings on this particular rant today, one may wonder. Well, the first period of the year is always hideous. It's not called the curse for nothing. We honeymooned in January and I learnt to my mortification that Hungarian toilets have the most half-hearted of flushes. LSB returned from a trip to the loo after me, his face positively ashen. Another year I almost crashed the car, as a searing white rage descended, to accompany my throbbing gut. And so to today and the reason for my ire: as I drove to Bangor with the girls I was beset by a fit of coughing, the force of which seemed to further dislodge my womb lining so that it soaked through to my nice frock. "Nice to see you Mum! Sorry I look like I've haemorrhaged, any chance you could nip up to Boots for me?"
AAI* is always good in a crisis and produces the needful, which I'd (of course) forgotten to bring. "How dreadful dear, but sure won't be long until you're rid of the damned things. I wasn't much older than you when mine buggered off for good." So I've hot flushes to look forward to next. It just keeps getting better.
Bring back the Red Tent I say! No need for Always Ultra, just a shared space with friends; the peace to sit, off the hook from chores and responsibilities, sipping wine together until the fecker had passed. Maybe our sisters back in Biblical times didn't have it so bad after all.
I'm off to find the Feminax, night all.
*AAI is an acronym for my mother who is Almost Always Irked by something, or somebody. (Frequently me).