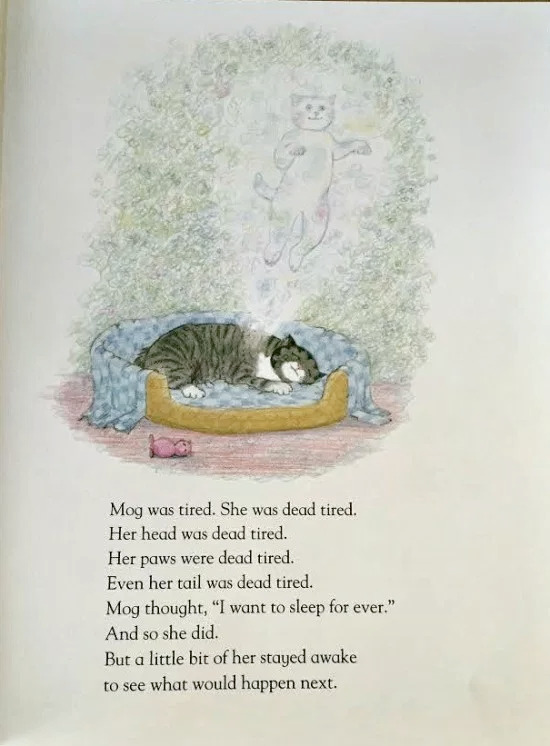 Ach, so Judith Kerr has died. Raging I am, and she meant to be reading at the Hay festival on May 1st.  She would have been looking forward to that. Only last week she was featured in the Guardian Weekend in the Q & A with Rosanna Greenstreet.  I've read several articles about her for years, writing her lovely books up in her attic, looking out over the trees in the park in her London home, often with a cat on her knee.
I've loved her work since I was a small child. When I was four or five, my mum took me to the Carnegie library in Bangor. I know the book I wanted, but all I could remember was that it involved a cat and a chimney. Perhaps Mog wasn't as popular back in 1983 and my details were scant, but I recall the librarian taking ages with me, searching for it on the old Android computer and finally locating it. I was ever so pleased.
Just last Sunday  The Mothership was up and reading the children their bedtime story.  I was feeling terribly feeble and reclining on my bed in my room next door. The primary school teacher is still very much alive in my mum, and she got into the story of Mog's Christmas with gusto,  clearly relishing the bit about the talking tree that scared the bejesus out of wee Mog.
"Mog thought, "Trees don't walk. Trees should stay in one place."
'Did you know that my daddy is 'a cat whisperer?' I heard the Older Child say, in a conspiratorial tone. 'He could have got Mog down off that roof.' 'Indeed,' said the Mothership. 'Your Papa too, but I wouldn't have let him go up a ladder, on Christmas Eve, in the snow.' And rightly so. My dad wouldn't be the steadiest, on or off a ladder.
Do you know what else I like about the Mog books? It's the simplicity; the gentleness of it. The way Kerr catches the quiet exasperation on Mr and Mrs Thomas' faces. There's a great story about Mog and Bunny, and poor Mrs Thomas going flying with her tea tray as she trips over Mog's pink bunny toy. We've all been there, we parents, falling over cats and children and bastarding pieces of Lego. We've all been tortured with pets mewing in the night and leaving their grubby little toys in our slippers and on our pillows.
Though perhaps what I love the most, is the distinct lack of gaudiness. Oh, how I HATE the gaudiness and the saccharine shades consistent in all children's books and TV programmes now. Bubblegum pink and lurid lime and putrid purple. I came down for breakfast and the kids had 'Shimmer and Shine' blaring on the TV and it was all just too much, at 7.50 of a morning. Part of me loves the slight dowdiness in Kerr's work. In Mog's Christmas there are the two glorious aunts 'on tippy toe'. That's exactly how my great aunts looked, in their cardigans and skirts that came just below the knee, taking enormous pleasure as they parcelled up our presents. All thrilled with himself is the 'jolly uncle', in his woollen tank top, carrying a balloon,  And  Mog herself and her range of catty expressions. I especially love 'Pissed-off Mog' with a slight narrowing of the eye and a flattened ear, which utterly conveys her disgust. Kerr claimed not to be a great illustrator, but I beg to differ. She captures the mercurial nature of a cat's temperament perfectly. And Mrs Thomas in her headscarf, on a snowy roof with a fish for Mog's supper. There's a kindness and a selflessness to the stories- simple pleasures and a celebration of the banal.
As a refugee from Germany, Kerr knew all about precious moments. She knew about the importance of family and friendships and small, kind gestures. It's in the faces of her characters. At the end of Mog's Christmas when 'the tree had stopped walking and made itself all pretty'  Nicky's face is aglow as he shows Mog his toy car, and the elderly aunt is all chuffed with her new pair of tights, and Mrs Thomas is giving Mog a boiled egg and all is intrinsically right with the world.
My children love Mog so much that the Small Child went to the Halloween disco at school in a Mog costume. 'I know she's not scary,' said the Small Child, 'but I just really, really like her.' I really like her too. Sleep well, Judith Kerr; we are grateful for you. You have brought us all much joy.