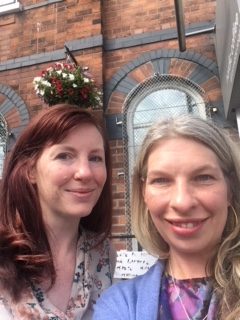 I'm just back from Kaffe-O where I had a fun and illuminating chat with Jennifer Hanratty, co-founder and chair of Breastival Belfast, which celebrates breastfeeding and creates a community of support for mums. Breastival wasn't around when my children were babies, and I had a shocker of a time trying to feed Georgina myself- so much so that I didn't attempt it with child number two. I needed help, I needed support and I needed A LOT of it, and in its absence I started exclusively bottle feeding. Sadly this is what happens in Northern Ireland, as Jennifer told me this morning that 80% of mothers stop breast feeding before they are ready, or want to.
In other cultures, where mothers and grandmothers have breastfed themselves, they are on hand, night and day to offer support. Breastfeeding wasn't the 'done thing' in Ireland when I was born, and I didn't have many people to ask. I wish I'd had a network of mums or people who, like Jennifer, were knowledgeable about the process and could dispel myths and allay fears.
I worried when I heard about the Breastival movement, that it would be a bunch of breast-feeding evangelicals (you all know how I can't be having evangelicals of ANY kind), being all judgey and self-righteous about their decision. Jennifer shakes her head when she hears my presumption, and visibly shudders at the phrase 'breast is best.' Her take on it is that it's just 'normal' but because women in Northern Ireland haven't been exposed to it, it's often simpler to bottle-feed, like the generation before. What she wants, is that if women choose to breast-feed, that they have the resources available to them to do so for as long as they wish.
Breast-feeding isn't always easy, but the healthcare professionals don't want to openly admit this, lest it puts anyone off. Perhaps we need to think of it differently, as being a skill that we learn and improve as we find the technique which works best for us and baby. I felt that it was something that as a woman, I should instinctively 'know' and when it didn't work out I self-flagellated something shocking. I think if I'd Jennifer on the other end of a phone I might have made my way out of the mire.
Keep at it Jennifer. You've created an inspiring movement.