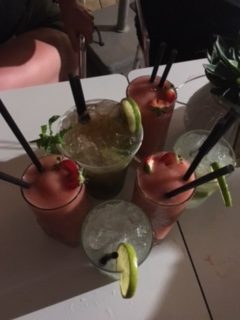 "God Almighty I've no bikini bottoms on!" I leap up from the sun lounger having just looked down and seen that I'd forgotten to change into the lovely new Spanish bikini pants and am sitting wearing a fetching floral top teamed with flesh coloured knickers. To add insult to injury I've been up and about, rearranging sun loungers and moving bags, applying sun cream and exchanging pleasantries, all blithely unaware of my gaff. But no matter, for it is the annual meet up in Spain with my friends and we're all too excited and happy to be worried about wardrobe mishaps. "Errrm though, did nobody notice that I was wearing pants by the poolside?" I enquire, (it's not yet 11-30 so it's not even as though anyone is already on their merry way.) "Oh no," they chorus. "I actually thought you'd worn them on purpose, a kind of stylish combo," says Anna. "Me too" Jojo hastily adds. "I think it's a good look, leave them on."
Ahhh, they're a great bunch of gals altogether which is why in January when my phone pings with gentle enquiries as to who's in and who's out of the August bank holiday trip I'm the first to say "Me! Absolutely and totally, me!"
You know the craic yourselves. All year you make decisions, tick off 'to do' lists, and suffer the vagaries of Irish weather, and you're pure melted. "What's this you say? (Those loyal readers who've seen my earlier post) Were you not just on holiday?" Well yes indeed I was, and I waved my family off in a taxi before stepping on a train and choo-chooing my way back down the coast to Calella on the Costa Barcelona. But that was a family holiday, and while I'd be the first to say that I'm somewhat keen on LSB and am reasonably fond of my children, there's still quite a degree of being on, being at their service, being a general harried dogbody. A holiday with a four and a five year old can be quite an intense experience; hence I recommend an immediate trip afterwards to recover. Preferably with an all-inclusive deal so there's no bickering or standing around being polite debating which tapas bar to frequent and thus precious time is saved to sip cava and sun yourself until all's no more.
As a group our pleasures are uncomplicated. There is much sunbathing and swimming. We paint each other's nails and share make up tips and practise the perfect fish-tail braids. (Note that I am only ever the recipient of such beauty advice because such things are not my forte. I love it: I practically bask, luxuriating in the pampering session). We take in the absolute wonder that is the evening attire of continentals, saying things like "Check out that fascinator on yer wan over there," or "Canary yellow jeans, hmmm, it's a courageous choice isn't it, for yon fella, and him near seventy." (As if I'm one to talk, me of the aforementioned pants.)
And it's not all sloth and gluttony, oh no, I'm far too Protestant for that. Happily my friend Fie is there to take me in hand and I accompany her with whatever her training programme dictates. Fiona, you see, is an all-round-super-person and is only going to compete in Calella's Iron Man competition next month. Yes, I was pacing her up and down the sea front, all thrilled with myself that I was fit to train with a proper triathlete. Plod plod plod we went, for kilometre after kilometre and then WHOOSH! straight in to the surf for an epic cool down before heading back for a hotel breakfast of champions.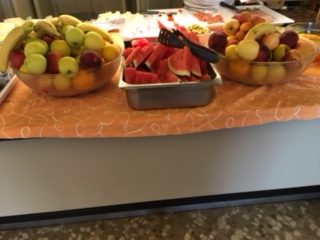 Training is infinitely more fun in Catalonia: so much to feast the eye upon. There are always muscular men striding past with the flimsiest of chihuahuas, or cycling by gamely with a Yorkie in their bicycle basket. (I always think the Southern European men are more comfortable with their feminine sides.) Or the sheer loveliness of seeing the elderly enjoying a gentle stroll hand in hand, or having a pedal at an outdoor gym. "I've a business idea," I puff to Fie, as I try to match her stride. "Catalan trips for the very old. No tours or sight-seeing, none of that bollox, no. Tapas. Beautiful Rioja. Gentle trots by the beachfront and let them feast their eyes on the waves. Simple pleasures. You're guaranteed that the sheer beauty of it will do for at least one of them, but you could get a deal with a local undertaker. I mean if I was going to die at 95, I'd be delighted if it was after a slice of manchego and a plate of Iberian ham." Fiona just nods, and jogs on. She's nice that way.
So other than a wee go down the slide by the pool it was quite calm until the Sunday, when the cava levels in the system were at a peak and suddenly we were throwing ourselves with gusto into pool side zumba; LOVING the bippity-bop of the Euro-pop; participating with glee in the impromptu foam party and some amongst us maybe even had a teeny little (partial) skinny dip after a strong mojito at the glorious beach bar on the final night. Yes, it would seem as though a little steam needed to be let off and happily we've all gone our separate ways somewhat decompressed.
Sour? Me? No, you've definitely mistaken me with someone else.;)