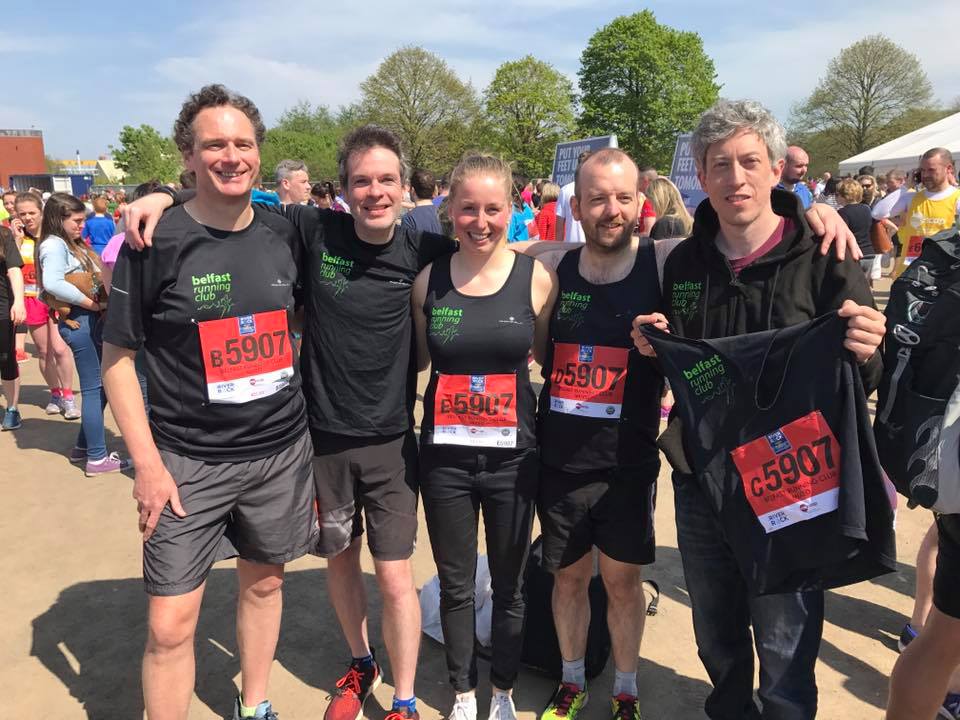 Hats off to all those who ran Belfast marathon in the gruelling heat on Monday. Belfast Running Club deserve a massive shout out for their superb relay result of 2 hours 46 minutes. For a fledgling club this is an astounding time where the team worked in impressive synchronicity to bring home the goods. Their mixed team included a German/Italian exchange student who's a speed demon altogether: I couldn't believe it when I saw her speeding down the Ravenhill in well under the 3 hour mark. She had the cheek of it to look fresh faced. Personally, I put the team's success down to a certain wife of one of its members who lovingly cooks him nutritionally balanced meals pre-race meals prior to races to enhance his performance and wordlessly takes his progeny off-side so he can train in peace. Yes, their success is all down to her, clearly. 🙂
I spent the marathon morning giving orders. First off, we stationed ourselves opposite Cherryvale Park, where I met club members Eileen and John outside their home on the corner. "Could these runners not do with a jelly baby?" I enquired. I mean the audacity: sure I could have taken myself round to the Co-Op and bought some, but Eileen diligently disappeared indoors and returned with a veritable sack of jelly beans. She proffered these with enthusiasm to grateful runners looking a final spurt of energy.
We waved our banner and clapped like evangelicals on speed and caught Laura Graham racing by to snatch the first female place. (That woman has FOUR CHILDREN, and she's winning prizes for frig's sake. Is she just trying to make the rest of us feel bad?) We spied our own Flying French man from the club zooming past, looking chipper for someone who only a fortnight before had completed Paris in record time. Seriously, what do these continentals be on? I want in on it. Note to self, it's not rocket science you daft mare, they just train like f**k. If I stopped drinking wine and taking naps and actually did the exercises the physio suggested I too could improve my time. But in all seriousness, what terrific athletes: all credit to them.
Next stop we sauntered over to the Ormeau, where I was all for a caffeine boost from my favourite haunt Kaffe-o. Serious supporters like me deserve a one-shot latte, and maybe even a chocolate mocha ball. However, we were diverted by the carnavalesque atmosphere in the church grounds of St Jude's, and stopped there for the next hour instead. The minis' eyes lit up at the sight of juice and popcorn and I got wired in to the coffee. Last August, when I was demented trying to entertain youngsters, I popped down to a summer scheme they organised and was totally won over. It was delightfully low-key; a few toys were flung out and a craft table erected, then a sofa and some comfy chairs were dragged out front and people could plonk down and exhale and thank God that it wasn't their living room being trashed for the third day running. Sustenance in the form of hot beverages and biscuits were duly wheeled out for the wild-eyed, sleep deprived parents and a sense of calmness was restored. The vicar George is a talented pianist and he bashed out a few songs on the keyboard to finish while the kids shook a tambourine or two. And there was no proselytizing, AT ALL. Well, they were back in business on Monday and I made myself right at home, suggesting that we maybe should offer some drinks and sweets to the runners, and before I knew it the kids were racing forth with cups of water and George set to chopping up Mars Bars and offering them up on a big silver platter. "Chocolate for energy" he called with gusto. "Take please!" It was joyous. The Parador was belting out super tunes and a big fella beside me provided an animated commentary of "Keep 'er lit!"; "Yer all winners, every one of ye" and "Go on ye boy ye!"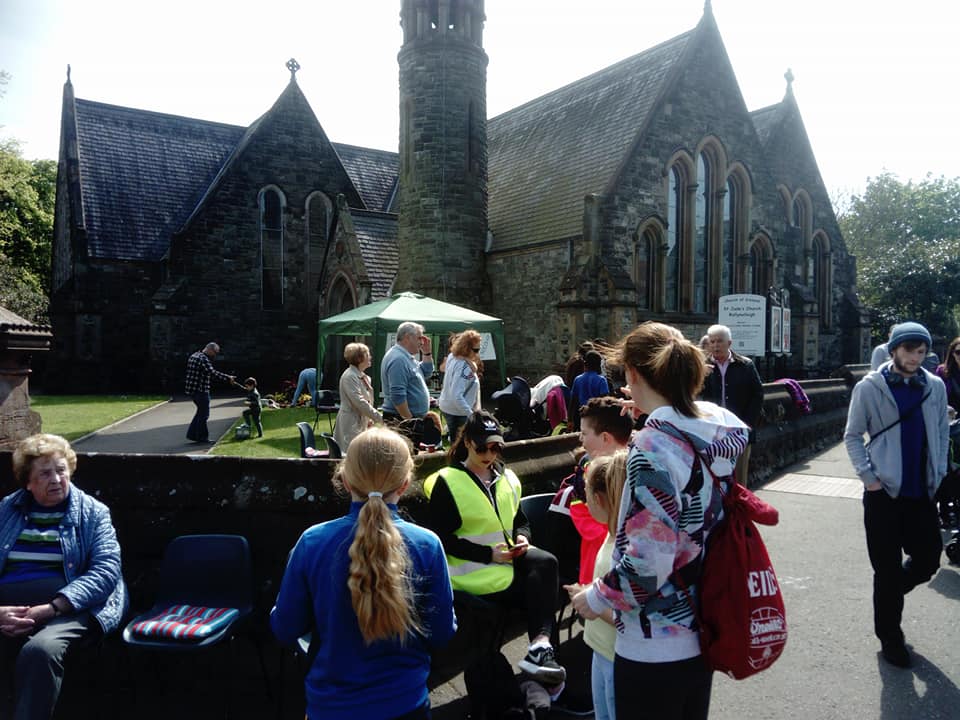 I took my poor sun burnt and exhausted children home at one o'clock and sighed a contented sigh at a morning well spent. The good people of Belfast were out in force and the craic was mighty. The lively fella was right, we were all winners. More of this type of thing please Belfast.